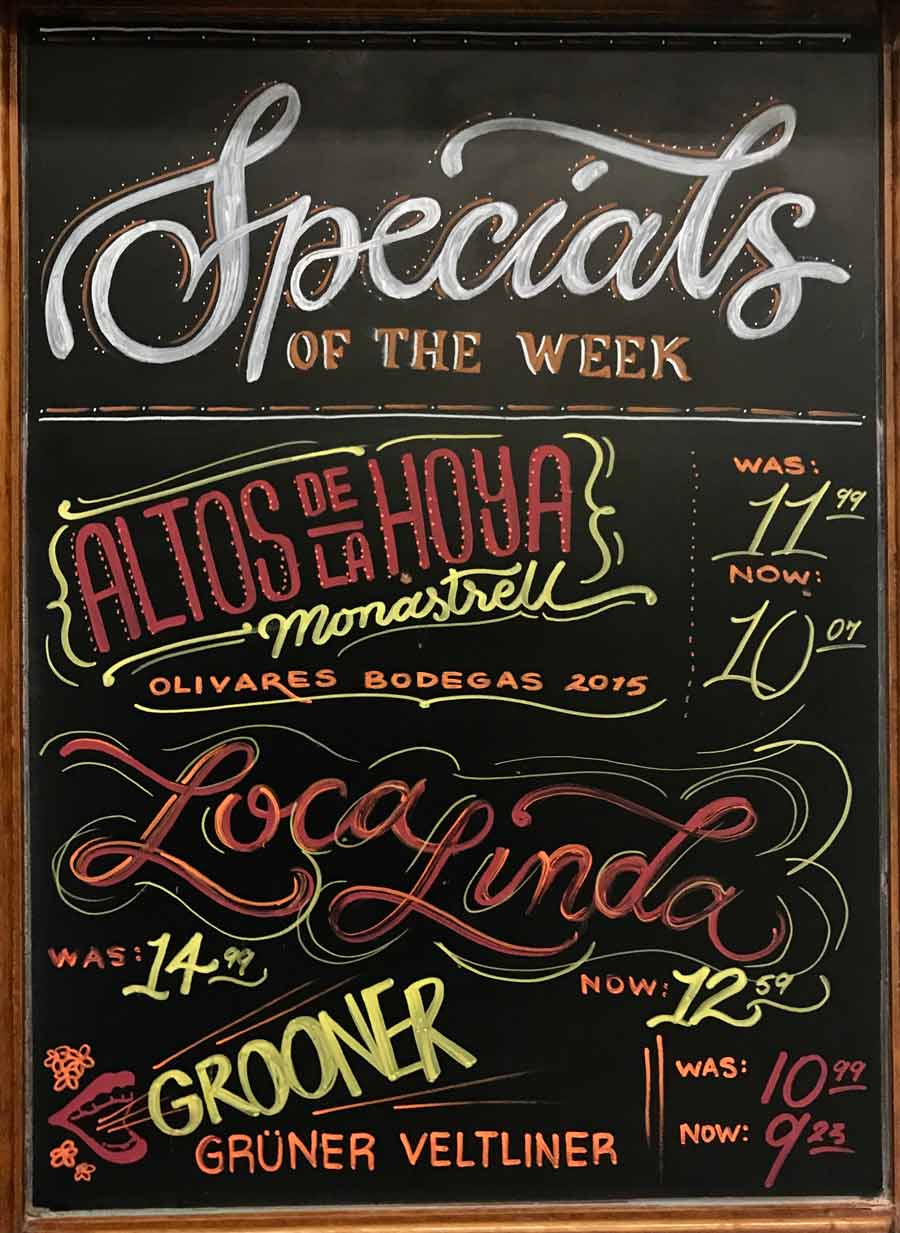 ON SALE THIS WEEK:
Altos de la Hoya $10.07
Loca Linda $12.59
Grooner Gruner Veltliner $9.23
========================>
Altos de la Hoya Olivares (Jumicca, Spain)
Varietals: Monastrell (AKA Mouvedre)
Nose: Blackberry and black cherry notes
Mouth: Full Blackberry, Finish: slightly dusty lots of black fruit, nice attic grip. Long – earthy.
Loca Linda (Mendoza, Argentina)
Varietals: Malbec
Nose: Black cherry, earthy, raspberry, cigar smoke
Mouth: Full tart black cherry, blackberry, spice mineral backbone
Finish: Dry, dusty black cherry / black berry, long tart berry and mineral note
Grooner Gruner Veltleiner Weingut Meinhard, (Niederösterreich, Austria)
Varitals: Gruner Veltleiner
Nose: Granny smith, mineral, lemon zest
Mouth: Light, crisp, good acid, green & yellow apple, melon rind
Finish: Dry, zesty, refreshing Lemon w/ green apple /green melon. Mineral
* Tasting notes by Greg of Capital Wine
Capital Wine hosts a free wine-tasting every Friday evening from 6 to 8:45 pm, featuring several wines chosen by our own staff. We offer these wines on sale for 16% off — the same discount as if you were buying a case. And they stay on sale for two weeks after the tasting. Which means that on any given day, half a dozen wines are on sale.
---
Sign board illustrations & hand lettering created & updated weekly by Farrah Mills