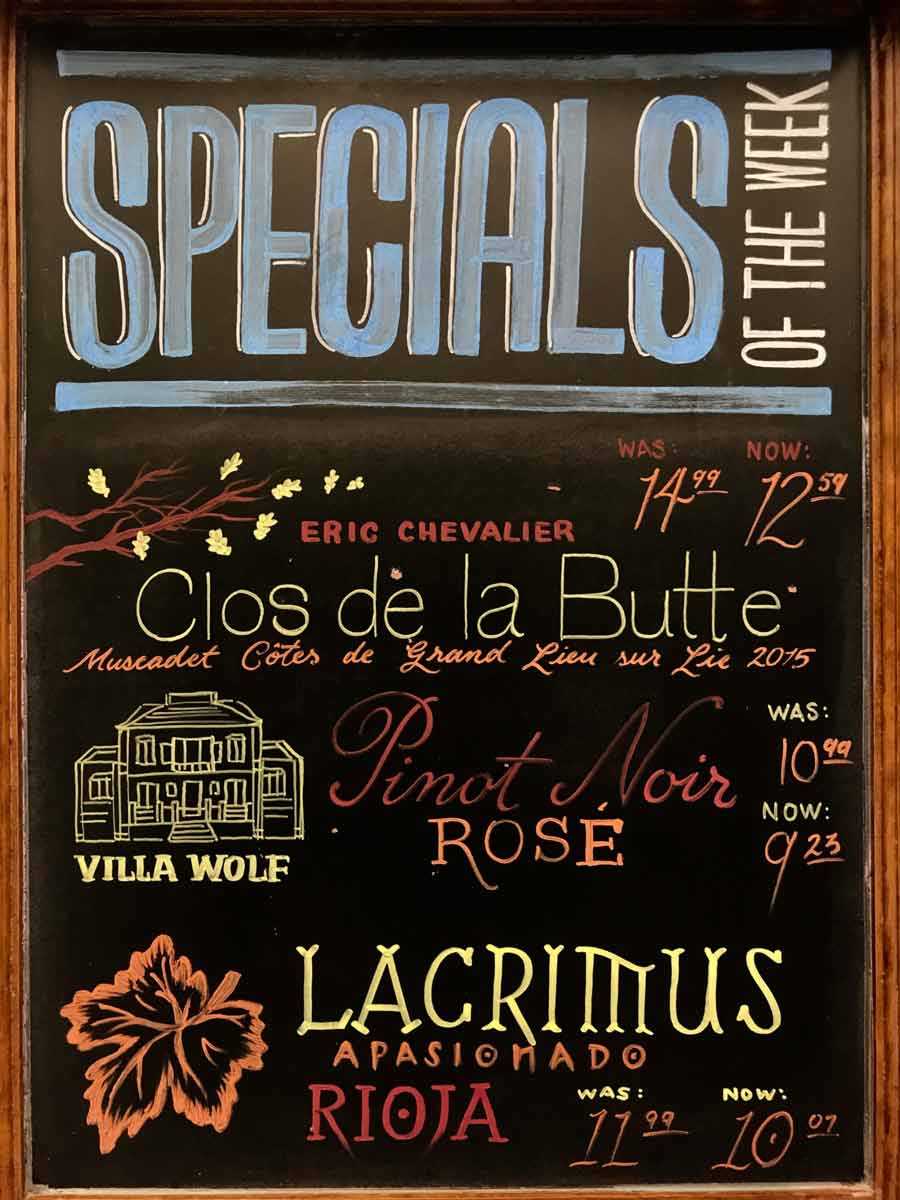 ON SALE THIS WEEK:

Clos de la Butte Muscadet Clos de Grand Lieu sur Lie 2015 $12.59
Pinot Noir Rose Villa Wolf $9.23
Lacrimus Apasionado Rioja $10.07
=====================>
Clos de la Butte Muscadet Clos de Grand Lieu sur Lie 2015 (Loire Valley, France)
Éric's Clos de la Butte is the perfect combination of freshness, crisp acidity, and a lingering finish that is always a mouthwatering experience.
Villa Wolf Pinot Noir Rose (Pfalz Region, Germany)
Pinot Noir has a long tradition in the Pfalz region, where it is known as Spätburgunder. Villa Wolf Pinot Noir is warm and medium-bodied, with a firm acid structure. Its bright black-cherry fruit is juicy, ripe, and forward, with a spicy midpalate. Twelve months of aging in used barriques gives the wine a smoky depth and a nice touch of earthy tannins. It's an excellent, approachable red wine for everyday dining
Lacrimus Apasionado Rioja (La Rioja / Navarra, Spain) 
A lovely expression of black fruits, black berries, and violet, with hints of cedar and liquorice. Fruity and lively attack, with floral notes, and ripe fruits, mellow tannins over a long finish.
Capital Wine hosts a free wine-tasting every Friday evening from 6 to 8:45 pm, featuring several wines chosen by our own staff. We offer these wines on sale for 16% off — the same discount as if you were buying a case. And they stay on sale for two weeks after the tasting. Which means that on any given day, half a dozen wines are on sale.
---
Sign board illustrations & hand lettering created & updated weekly by Farrah Mills