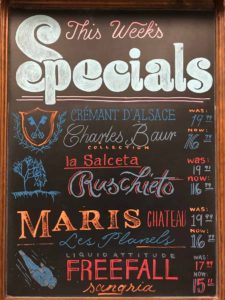 Crémant d'Alsace Charles Baur Collection $16.79
La Salceta Ruschieto $16.79
Chateau Maris les Planets $16.79
Liquid Attitude Freefall Sangria $15.11
==========================>
Crémant d'Alsace Charles Baur Collection (Alsace, France)
This sparkling "Brut" white wine is characterised by its delicate bubbles and expresses aromas of brioche, white flowers and dried fruit. On the palate, it is delicate and very well-balanced. Try this wine with foie gras, risottos and fine shellfish.
La Salceta Ruschieto (Tuscany, Italy)
Bright luminous ruby colour, be- autiful density and juiciness of the fruit and sharp floral notes of violet and Mediterranean scru- bland, with the fresh aromas of wild berry, cur- rant, wild strawberry, wild rose; Dry, soft, fresh, well-balanced taste. Excellent complexity and intensity with vegetal and gamey notes. Great tannic structure. Really impressive length.
Chateau Maris les Planels (Languedoc, France)
Complex with a powerful presence in the mouth. Balanced and silky smooth with a smoky, liquorice finish. It's full-bodied, with gorgeous purity, integrated acidity and a beautiful elegance about it that keeps you coming back to the glass.
Liquid Altitude Freefall Sangria (Hudson Valley, N.Y.)
Made in the Hudson Valley, this bold blend of Cabernet Sauvignon, Merlot, and Baco Noir is made entirely from New York grapes. Infused with fruits and jacked with spirits, this is a sangria that is made for the adventurous. 30 PROOF
*tasting notes courtesy of the vintners
Capital Wine hosts a free wine-tasting every Friday evening from 6 to 8:45 pm, featuring several wines chosen by our own staff. We offer these wines on sale for 16% off — the same discount as if you were buying a case. And they stay on sale for two weeks after the tasting. Which means that on any given day, half a dozen wines are on sale.
---
Sign board illustrations & hand lettering created & updated weekly by Farrah Mills