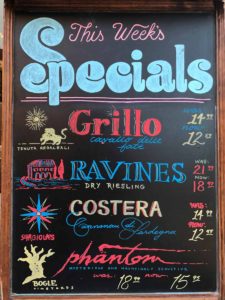 Tenuta Regaleali Grillo Cavallo Dell Fate $12.59
Ravines Dry Riesling $18.47
Argiolas – Cannonau di Sardegna Costera $12.59
Bogle Vineyards Phantom $15.97
=====================>
Grillo Cavallo delle Fate Sicilia DOC (Sicilia, Italy)
Grillo, which translates as "cricket," is a historical Sicilian grape variety. The Grillo grape was made famous internationally through the production of Marsala wine, but it is also capable of producing dry wines of incredible depth. At Tenuta Regaleali, in western Sicily, Grillo has been cultivated for years. For this wine, Tasca d'Almerita harvests their Grillo vines at different periods to retain freshness and also lend structure that will carry the wine through extended bottle age. Tasting Notes: Pale straw yellow in color, Tasca d'Almerita Grillo offers a broad range of bright fruit aromas from crisp citrus to white peach, tangy apricots, and exotic tropical fruit like pineapple. An elegant backbone of minerality carries the wine across the palate and leads into a balanced finish. Pair this wine with fritti misti, seafood pastas, couscous, tuna, and poultry or veal.
Ravines Dry Riesling (Finger Lakes, NY)
Winemaker Notes: Ravines own unique style of Riesling: an elegant, dry style with delicate, complex aromatics, distinct minerality, and vibrant acidity. The gentle extraction methods allow the cool-climate character to shine. The nose displays white flower notes, citrus, white peach and apple aromas as well as a distinct minerality. On the palate, the Finger Lakes acidic backbone provides great focus, liveliness. The aging on the fine lees has resulted in a gentle round texture supporting the floral and mineral elements of this Riesling. A long, clean finish promises a bright evolution of this wine.
Argiolas – Cannonau di Sardegna Costera (Sardinia)
Argiolas is the foremost wine estate on the island of Sardinia producing archetypal wines from native varietals. The winery was founded in 1938 by Antonio Argiolas and was the first on the island to pursue quality over quantity. Today, the Argiolas family is recognized as Sardinia's leading producer of wine.
Sardinia is the second-largest island in the Mediterranean and lies roughly 190 miles west of Italy's mainland. The vineyards of Argiolas are located in Serdiana in the Trexenta hills just north of the capital of Cagliari. Argiolas farms 600 acres of native Sardinian grapes including Nuragus, Monica, and Cannonau.
Costera, a name referring to hills, is made from Cannonau (Garnacha or Grenache). It is the workhorse red grape of Sardinia where it is likely to have arrived centuries ago from Spain, although an alternative theory suggests that Cannonau originated in Sardinia. In either case, Cannonau is well-adapted to the warm Sardinian climate and gives a deeply-colored, full-bodied red wine.
Costera shows the typicity of the Cannonau grape with flavors of very ripe strawberries, black cherries, herbs, and spices. The warmth and intense sunlight of southern Sardinia can be seen and felt in the wine with unexpectedly deep color and fullness on the palate. French oak barriques provide rounded tannins and flavors of vanilla.
Bogle Vineyards Phantom Red Blend (California, USA)
Phantom, Bogle's mysterious apparition of ripe berry and relentless spice, returns to haunt wine lovers.   Full of concentration and intensity, this wine will tease, tantalize and linger long after the last sip is gone.
Wild berries, black pepper are framed by the influence of oak aging with baking spices and a hint of toasty vanilla.
*All tasting notes courtesy of the vintners.
Capital Wine hosts a free wine-tasting every Friday evening from 6 to 8:45 pm, featuring several wines chosen by our own staff. We offer these wines on sale for 16% off — the same discount as if you were buying a case. And they stay on sale for two weeks after the tasting. Which means that on any given day, half a dozen wines are on sale.
---
Sign board illustrations & hand lettering created & updated weekly by Farrah Mills