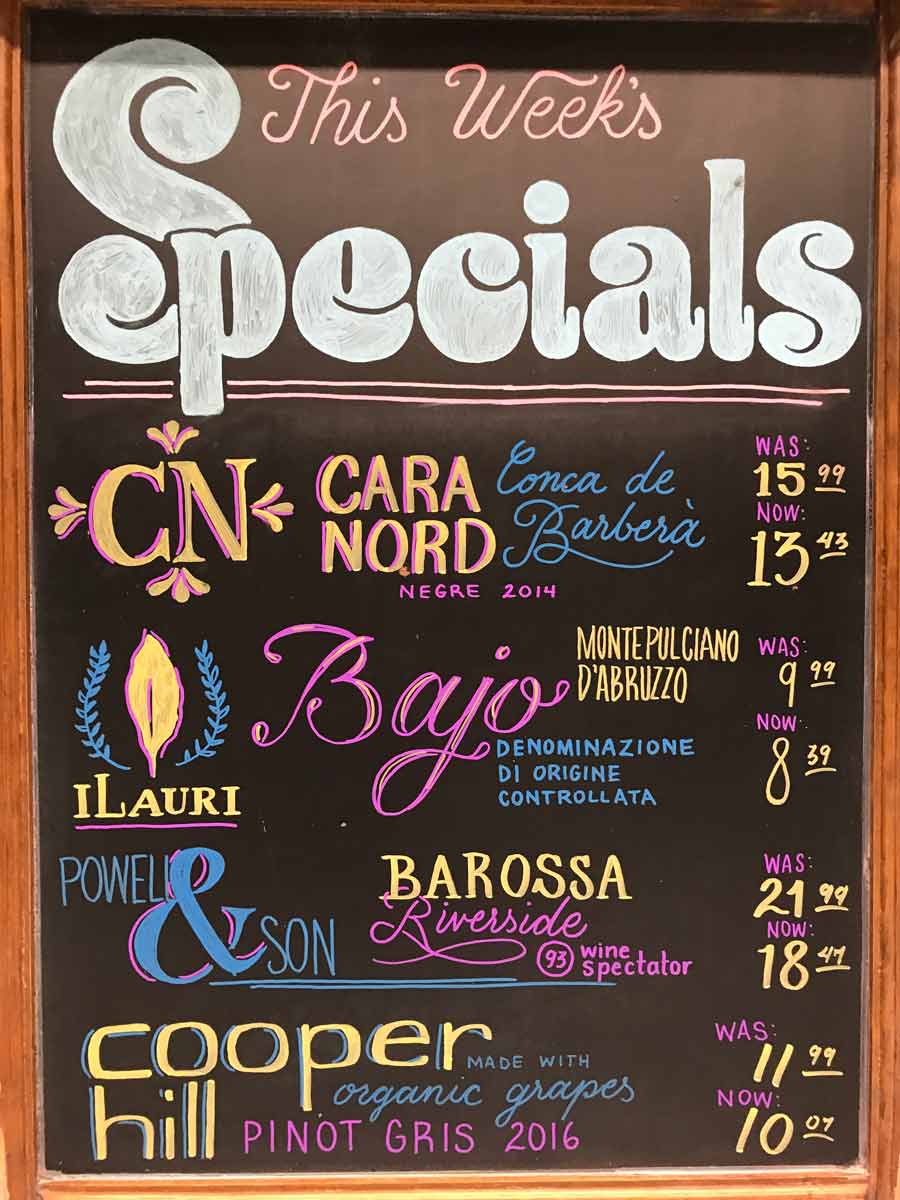 Cara Nord Conca de Barbera Negre $13.43
ILauri Bajo Montepulciano D'Abruzzo Denominazione de Origine Controllata $8.39
Powell & Son Barossa Riverside (93 Wine Spectator) $18.47
Cooper Hill Pinot Gris 2016 (Made with Organic Grapes) $10.07
=====================>
Cara Nord Conca de Barbera Negre 2014 (Catalonia, Spain)
Composed of 42% Garnacha, 38% Syrah and 20% Garrut (an indigenous varietal), this wine was fermented and aged six months in French oak. A fabulous nose of spring flowers, blue, red and black fruits and wet rocks/gravel is followed by an elegant, medium to full-bodied, fruit-laden, personality-filled wine.
Ilauri Bajo Montepulciano d'Abruzzo Denominazione de Origine Controllata (Abruzzo, Italy)
Our estate grapes produce this fine example of Montepulciano d'Abruzzo every vintage. The name Bajo (Bay) given to our town's most important street comes from the hair color of some horses. Bay is one of the most common coat colors in many horse breeds. Select vineyards with stony and calcareous soil are carefully managed to produce this classic wine. Following its temperature controlled vinification in stainless steel, the wine is aged for six months in large Slovenian oak barrels and ends its cycle with a short bottle rest. This vibrant red from Abruzzo displays a violet color and an intense bouquet of ripe red fruit, finely framed with spices. Ideal with barbecued meats and traditional Italian specialties such as lasagna
Powell & Son Barossa Valley Riverside Grenache Mataro Shiraz (Barossa, Australia)A supple, seamless mix of cherry and raspberry flavors, with dried violet, savory and smoky details, accented by hints of sarsaparilla. Polished and refined, especially on the effortless finish. Grenache, Mataro and Shiraz.
Cooper Hill Pinot Gris 2016 (Willamette Valley, Oregon)
*All tasting notes courtesy of the vintners.
 Capital Wine hosts a free wine-tasting every Friday evening from 6 to 8:45 pm, featuring several wines chosen by our own staff. We offer these wines on sale for 16% off — the same discount as if you were buying a case. And they stay on sale for two weeks after the tasting. Which means that on any given day, half a dozen wines are on sale.
---
Sign board illustrations & hand lettering created & updated weekly by Farrah Mills