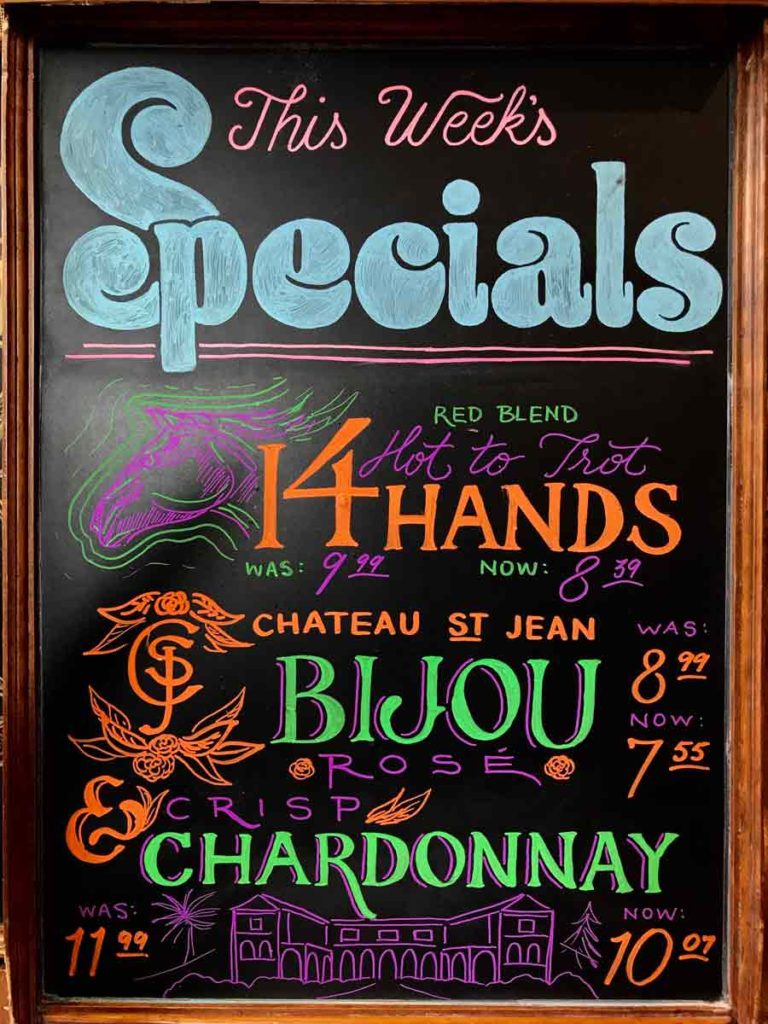 ON SALE:
Red Blend Hot to Trot 14 Hands $8.39
Chateau St. Jean Bijou Rose $7.55
aCrisp Chardonnay $10.07
---
Red Blend Hot to Trot 14 Hands (Columbia Valley, Washington):
This polished red wine offers aromas of cherry, red currant and tea. Flavors of cherries, ripe berries and plums, supported by a frame of refined tannins, give way to subtle notes of baking spice on a persistent finish.
Chateau St. Jean Bijou Rose (Sonoma Valley, California): 
The French word Bijou means "jewel" and this Rosé from Chateau St. Jean offers a crisp and elegant dry wine with balanced fruit and acidity. The wine is driven by a core of forward fruit flavors; fresh watermelon, citrus, and bright cherry hold center stage. Our Rosé is from outstanding vineyard sites throughout California with special focus on perfectly ripe fruit that retains natural, bright acidity.
aCrisp Chardonnay (Sonoma Valley, California):
This bright and fresh 2014 Chardonnay has delicate aromas of summer apricots with a hint of warm honey. Bright lemon bursts on the palate, flowing to flavors of juicy pineapple with a touch of creme fraiche. The vibrant acidity has subtle layers of oak and Marcona almonds that liners in the clean but lengthy finish, (aCrisp is a label under Luna Vineyards.)
*All tasting notes courtesy of the vintners.
 Capital Wine hosts a free wine-tasting every Friday evening from 6 to 8:45 pm, featuring several wines chosen by our own staff. We offer these wines on sale for 16% off — the same discount as if you were buying a case. And they stay on sale for two weeks after the tasting. Which means that on any given day, half a dozen wines are on sale.
---
Sign board illustrations & hand lettering created & updated weekly by Farrah Mills