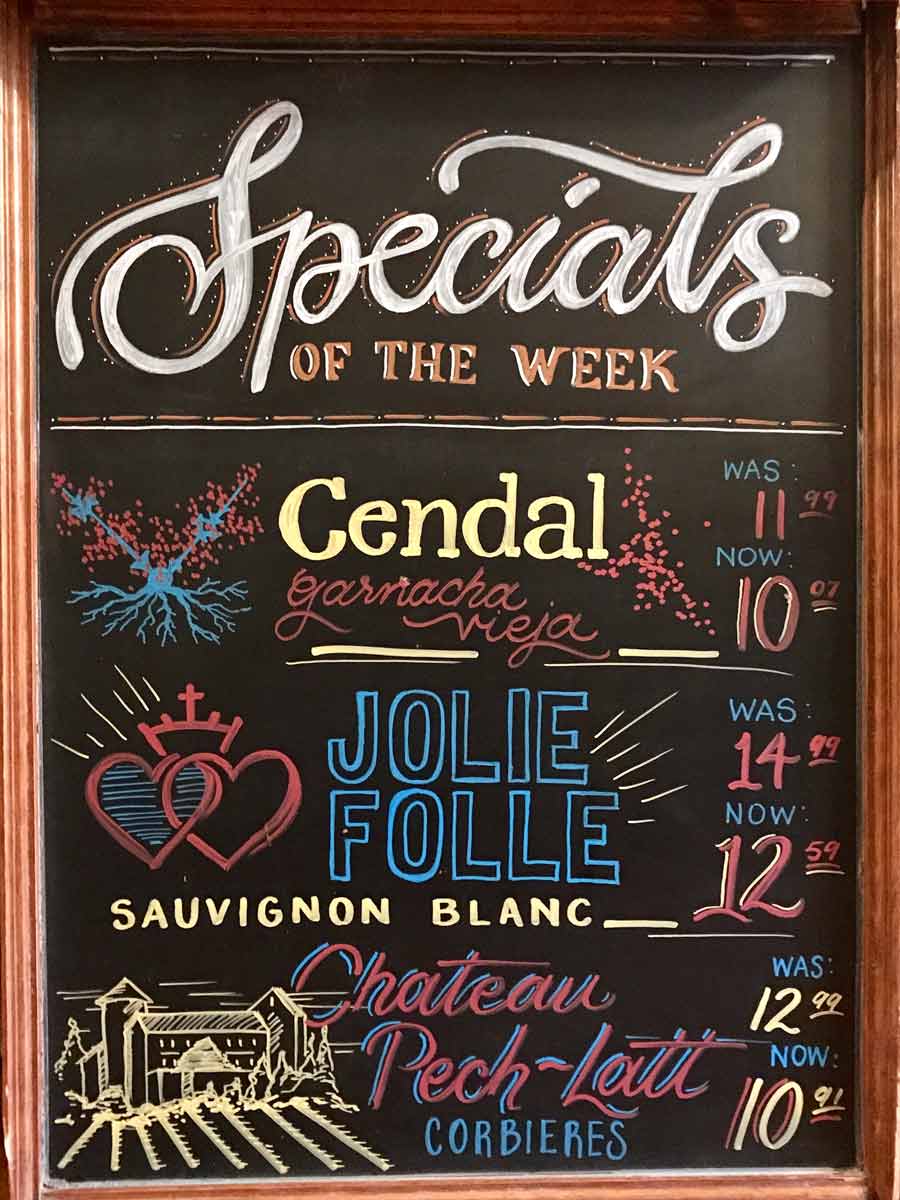 Cendal Garnacha Vieja $10.07
Jollie Folle Sauvignon Blanc $12.59
Chateau Pech Latt Corbieres $10.91
==========================>
Cendal Garnacha Vieja (Castilla, Spain)
The vineyards are on average 70 years old and bush pruned. They are located in Mentrida which is a growing zone just south of Madrid. The plots come from two vineyards: La Serafina and El Cuartel
Orientation: The vineyards are at a high altitude between 400 and 600 meters so that there is a large diurnal temperature shift. Sandy soil full of quartz and felspar. The soil is a result of erosion from the granite formations in the Gredos mountains. Old vines bush pruned and worked by hand.
Vinification: The grapes are destemmed and crushed then fermented in stainless steel tanks with temperature control. The wine undergoes malolactic then it is filtered, cold stabalized and bottled. No oak aging.
Jolie Folle Sauvignon Blanc (Val de Loire, France)
Expressive pink grapefruit and lilac on the nose with a refreshing finish of citrus, stone and subtle grassy notes. Grapes are sourced primarily from the Touraine but we pursue the Val de Loire appellation to keep some flexibility in sourcing. Soils here are highly varied, from flinty clays, clay limestone on a chalk bed to gravel stones and sand. Grapes are pressed immediately and kept at 41-42 °C on fine less debourbage for 8 days. The wine is then cold fermented in stainless steel tanks for 11 days.
Chateau Pech Latt Corbieres (Languedoc, France)
This wine from the the Corbieres AOC within the Languedoc, is a fantastic value. Made from a blend of old vine Carignan, Syrah, Grenache, and Mourvedre, it offers plenty of dark berry fruit and explosive flavors. It is also made from grapes farmed Organically and carries the Ecocert for Organic origin on the label.
*tasting notes courtesy of the vintners
Capital Wine hosts a free wine-tasting every Friday evening from 6 to 8:45 pm, featuring several wines chosen by our own staff. We offer these wines on sale for 16% off — the same discount as if you were buying a case. And they stay on sale for two weeks after the tasting. Which means that on any given day, half a dozen wines are on sale.
---
Sign board illustrations & hand lettering created & updated weekly by Farrah Mills