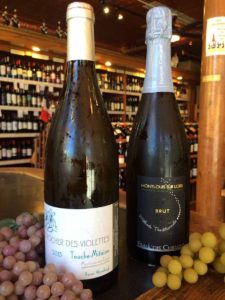 Summer is almost officially here!  More importantly, the changing of the season means it's white wine time again.  One of my favorite areas to enjoy on a warmer day is Montlouis.  Greatly underappreciated, the region sits across the Loire River from its more well-known neighbor, Vouvray.  Like Vouvray, the only white grape grown within Montlouis is Chenin Blanc.  Generally speaking, the wines are more precise, acidic and show more fresh characteristics than Vouvray.
As most of my friends, family and everyone within shouting distance know the two we carry are my go-to bottles for the price.  The sparkling we carry is by one of the most well known and respected producers in the area, Francois Chidaine. The Montlouis Brut Methode Traditionelle displays beautiful fresh notes of white flowers, zesty citrus and a bright mineral characteristic.
If bubbles aren't your thing, the still Montlouis we have will make you happy.  The wine, Le Rocher Des Violettes Touche Mitaine ( "touch of a mitten" in English) is explosively flavorful.  This straddles the balance of being very round in feel, but it delivers a laser-beam of minerally citrus fruit that will leave your mouth watering for more.
Enjoy these for the everyday price of $19.99 each, and see what the magical world of Chenin is all about!