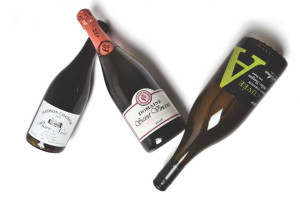 These picks by owner Mark Brogna appeared in the Times Union newspaper on March 24, 2016.  
---
Cuvée A Muller-Thurgau (2014): $15.99:
If you enjoy light and crisp whites, give this a try! Prepare to be slapped in the face with a smorgasbord of exotic, tropical flavors. Spicy pear, honeysuckle, starfruit, grapefruit and key lime flash on the palate. Enjoy with a variety of meals, especially spicy cuisine like Thai, Creole or Mexican.
Baco Noir Middle Hope Vineyard (2014) $23.99:
This vineyard was originally planted by winemaker Steve Casscles over 35 years ago as a hobby in High School. Think New World Cru-Beaujolais with his Baco Noirs. Medium bodied in structure, the complex fresh and sour cherry notes blend beautifully with subtle plum and even a whiff of vanilla on the finish. Drink tonight with a variety of gourmet meals, or this will easily age for 20+ years … if you can keep you hands off for that long!
Domaine Saint Vincent Rose $12.99
Springtime in a bottle! A very dry bubbly with notes of strawberry, dried cherry, and sour pomegranate. A slight touch of creaminess on the finish rounds out this versatile wine. Delicate and subtle in structure, this wine is a perfect pairing for whatever is on the menu at Easter Brunch!
http://www.timesunion.com/518life/article/Wine-recommendations-for-April-7033000.php
---